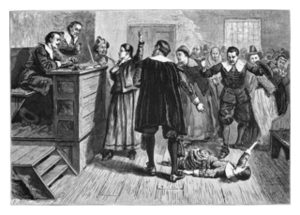 Salem - The Salem witch tragedy of 1692 took less than two years to play out. Yet 300 years later, explanations for how and why it happened are still coming.
One theory recently gaining exposure thanks to bloggers comes from a 2004 college thesis that places the blame on something we think of as a strictly modern phenomenon: climate change.
Proposed in a Harvard thesis, the paper by economist Emily Oster has earned attention due to the modern swirl of controversy surrounding the possibility that human interaction has altered world temperatures.
Currently an assistant professor at the University of Chicago, Oster linked periodic outbreaks of violence against people accused of witchcraft with dramatic temperature drops.
"The most active period of the witchcraft trials (mainly in Europe) coincides with a period of lower-than-average temperature known to climatologists as the 'little ice age,'" Oster wrote. "The colder temperatures increased the frequency of crop failure, and colder seas prevented cod and other fish from migrating as far north, eliminating this vital food source for some northern areas of Europe."
When crops failed, "people would have searched for a scapegoat in the face of deadly changes in weather patterns," she wrote. Thus, desperate people traced their troubles to unpopular neighbors and outcasts allied to the devil.
Oster noted that the persecutions "spread even across the Atlantic Ocean to Salem, Massachusetts."
Moreover, she added, "The coldest segments of this
'little ice age'
period were in the 1590s and between 1680 and 1730."