Comment: Short answer; no it is not. It's an impact site (caused by an overhead cometary explosion)...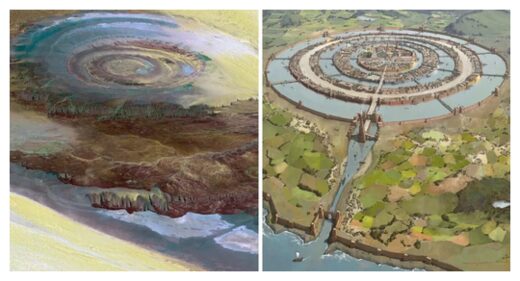 Could a curious geological formation in the Mauritanian part of the Sahara desert anything to do with the lost city of Atlantis?
If you type the word "Atlantis" into Google, around 120 million results will pop up. Obviously, Plato's legend of Atlantis has long occupied many people, from scientists to mysticists, with many candidates being cited as the possible location of this lost and sunken civilization. But did such a city ever exist at all? And if yes, where could the ruins be?
The only mention of Atlantis by name in historical texts is in Plato's
Dialogues
(written around 360 B.C.), which gives dozens of precise details about what Atlantis looked like, and where it may have been located in relation to other landmarks in the ancient world. It was this level of detail that has set many people off thinking that Atlantis actually existed.
One of the best clues that Plato gives about Atlantis is that there was a series of concentric circles around the city, black and red stone, and of course it was a seafaring society:
Poseidon carved the mountain where his love dwelt into a palace and enclosed it with three circular moats of increasing width, varying from one to three stadia and separated by rings of land proportional in size. The Atlanteans then built bridges northward from the mountain, making a route to the rest of the island. They dug a great canal to the sea, and alongside the bridges carved tunnels into the rings of rock so that ships could pass into the city around the mountain; they carved docks from the rock walls of the moats. Every passage to the city was guarded by gates and towers, and a wall surrounded each ring of the city. The walls were constructed of red, white, and black rock, quarried from the moats, and were covered with brass, tin, and the precious metal orichalcum, respectively.
So, according to Plato, Atlantis looked something like this: