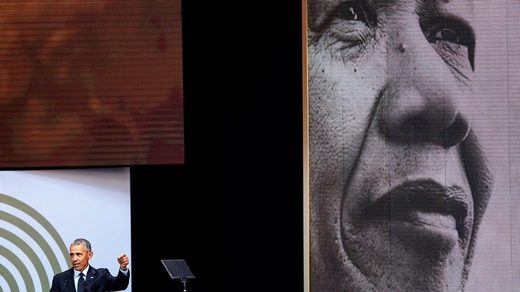 The theft and distortion of Nelson Mandela's legacy by champions of Western liberalism has and continues to be both sickening and obscene to behold.
Libya hovers into sharp relief
Just how obscene is reflected in the sight of former US President Barack Obama
delivering
the annual Nelson Mandela lecture in Johannesburg on July 17, the 100th anniversary of the giant of the anti-apartheid struggle's birth.
This event has been held annually in South Africa since 2003, organized by the
Nelson Mandela Foundation
. According to the foundation's website
"global leaders have used the lecture to raise topical issues affecting South Africa, Africa and the rest of the world."
Instantly arriving on the back of these words, however, given Obama's participation as the event's star act this year, comes anger and a crippling sense of irony - cruel irony - as 'Libya' hovers into sharp relief.
Not only was the former US president key in turning the North African country from a functioning state with a 'high human development rank',
according
to the UN, into a manifestation of hell on earth, but Libya's murdered leader, Muammar Gaddafi,
provided
significant material aid to Mandela and the anti-apartheid struggle in South Africa when at its most intense.
This was way before it achieved the status of cause celebre in the West, when Washington and its allies were doing their utmost to lend legitimacy to the country's brutal apartheid government and state institutions.