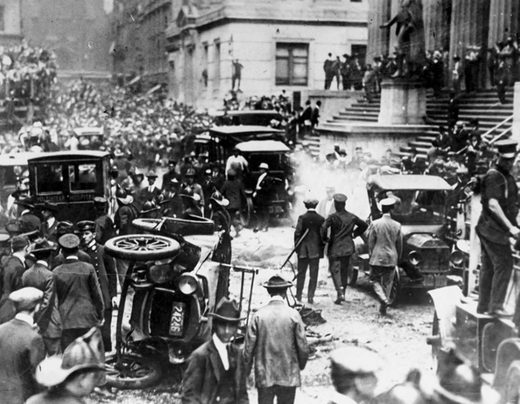 If Lower Manhattan's Financial District was the center of American capitalism in the 1920s, then the southeast corner of Wall and Broad Streets was its most important junction.
It was dominated by the headquarters of J.P. Morgan and Co., a financial leviathan that had come out of World War I as the most influential banking institution on the globe
. Across the street stood the U.S. Sub-Treasury and the Assay Office. The bustling New York Stock Exchange was located just down the road.
Rain was in the forecast for September 16, 1920, but as the bells of nearby Trinity Church rang in the noonday hour, "the Corner" was its usual hive of activity. Bank clerks and stockbrokers swarmed around the building fronts, and the streets were clogged with automobiles and messenger boys. Few in the lunchtime crowd paid any notice to the battered horse-drawn wagon parked in front of the Assay Office, nor the driver that had anxiously dropped the reigns and hurried off down the street.
The final ring of the church bells was still hanging in the air at 12:01, when the 100 pounds of dynamite concealed in the wagon detonated with an ear-splitting roar. "That was the loudest noise I ever heard in my life," J.P. Morgan employee Andrew Dunn later remembered. "It was enough to knock you out by itself." The blast derailed a streetcar a block over and sent debris soaring as high as the 34th floor of the nearby Equitable building. Pieces of the wagon's ill-fated horse landed hundreds of yards away. Stockbroker Joseph P. Kennedy, father of future President John F. Kennedy, was lifted clear off his feet by the concussion, as were many others.