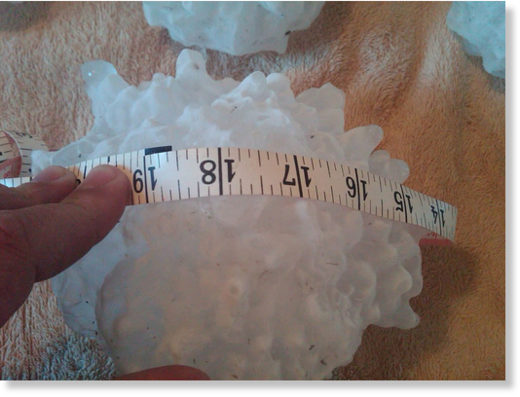 To people in Vivian, South Dakota, it must have seemed like a divine rebuke when, in July 2010, a storm pummelled their community with massive hailstones,
with the largest specimen reaching 20 cm across, or about 8 inches -- the largest on record.
That's about as long as eight loonies side-by-side. Take a moment to just picture that in your head.
There can be a tendency to underestimate the destructive power of a hailstorm because, for many people, hailstones get no larger than marbles -- a nuisance if you're caught out in them, but not likely to do much of a number on your home or vehicle.
But though underrated compared to more famous thunderstorm impacts such as tornadoes and lightning, people who live in places prone to the strongest thunderstorms know that
, if the conditions are right, hail can be large enough to cause catastrophic damage -- and even kill.