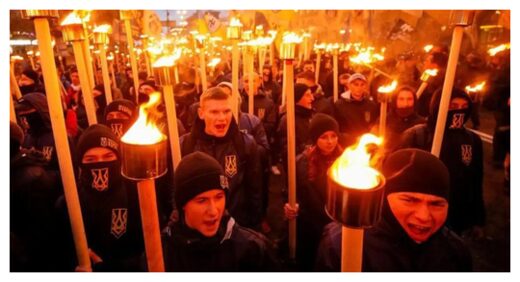 In early 2014 more than 83 percent of the qualified voters of Crimea, on their own volition, participated in a referendum to rejoin Russia. And of that number, nearly 97 percent voted to separate themselves from Ukraine and once again become a part of Russia, in what was a massively one-sided victory. Returning to Russia meant better wages and better pensions, and somewhat better living conditions.
The eagerness to reconnect was not anchored totally in ethnic emotionality; Crimean voters also hoped for a better standard of living.
It should be remembered that Crimea would never have pursued such an action, and Russia would never had been receptive to such a course,
were it not that Ukraine was in the grip of disruptive forces that were driving toward regime change.
Regime change
is a form of action designed to make it impossible for the existing government to govern. We have seen this well-orchestrated chaos and endless disruption in various countries.
Militantly organized groups are financed and equipped by outside western interests.
NGOs (nongovernmental organizations) surface in substantial numbers and produce rebellious publications and events designed to unsettle the besieged government — in Ukraine's case, a government that was democratically elected not long before. The NGOs handle billions of dollars worth of supplies used to mobilize and sustain the protests. Even though they are supposed to be independent ("nongovernmental")
some NGOs get all their funds from the U.S. government.
An Assistant Secretary of State, Victoria Nuland, proudly exclaimed that the United States had poured some $5 billion into the struggle for regime change.
Ultra-nationalists and mercenaries soon took hold of the protesting crowds and set the direction and pace of action, secure in the knowledge that they had the powerful reach of the western nations at their backs. This included NATO's military might and the western (corporate and public) mainstream media with a global reach that pretty much shut out any contrary viewpoint. The most retrogressive elements among these operatives in Kiev launched slanderous attacks against Jews, Blacks, Chinese, Muscovites, and — of course — Communists.
In Ukraine, crypto-fascist groups like Svoboda, the Right Sector, and others secured ample funds to keep thousands of people fed and comfortable enough on the streets of Kiev for weeks at a time, complete with well-made marching flags, symbols, and signs in various languages (including English). Svoboda henchmen were being financed by someone. They wore insignia that bore a striking resemblance to the swastika. Svoboda's top leaders openly denounced "Russian scum," and "Muscovite Jewish mafia." Disguised men in unmarked combat fatigues attacked unarmed police and security guards. They moved among the gathered crowd and at times, according to independent sources, delivered sniper shots into the crowd — which could then be readily blamed on the nearly asphyxiated government.
Meanwhile the western media reported everything the way the White House wanted, for instance, unfailingly referring to the perpetrators as "protestors."