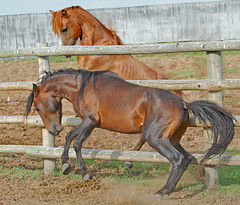 Gohar - A team of archaeologists working in Gohar Tappeh, situated in the northern Iranian province of Mazandaran, have discovered the oldest known remains of the Caspian Horse, the oldest horse breed in the world still in existence.
Also known as the Mazandaran horse, the discovery was made in a cemetery dating back to the late Bronze and early Iron age, around 3400 BCE, Archaeology Daily reports. "Due to the form, figure and size of the discovered remains of the horse, we now have the oldest evidence for Caspian horse ancestry at hand," said Ali Mahforuzi, director of the team in Gohar Tappeh.
Discovery of the Caspian horse, or the 'Kings' Horse', was made by the team during the eighth season of archaeological research in Gohar Tappeh, a 50-hectare historical site located between the cities of Neka and Behshahr, in the eastern part of the Mazandaran province.