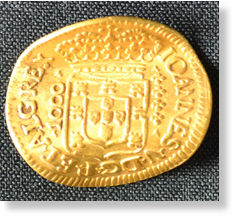 A 300 year-old Portuguese coin has been found at an archaeological dig site in eastern Newfoundland.
The gold coin, minted in 1708, was found at the Colony of Avalon archaeological dig site in Ferryland this summer.
The coin is bent into an 'S'. People who've studied that era said men at the time bent coins and presented them as love tokens to women they were courting.
Wayne Croft found the coin.
"I just gave a couple of shakes and I see this thing bouncing, and stopped the shaker, and I looked at it and there was a gold coin and I really just couldn't believe my eyes ... it's such a rich site...it's amazing...totally amazing," said Croft, who has been working at the site for 12 years.
"Really you don't know from the next scrape of the trowel what you're going to uncover."