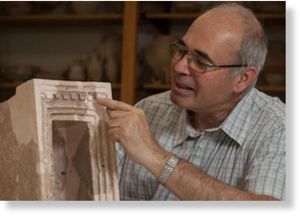 An archaeologist from the Hebrew University of Jerusalem says he has discovered cultic shrines dating back to the time of the biblical King David, which may provide clarity to some obscure building references in the Bible.
Professor Yosef Garfinkel says his discoveries at Khirbet Qeiyafa, an ancient fortified city that is 30 kilometers southwest of Jerusalem and is adjacent to the Valley of Elah, have confirmed the biblical view of the region prior to the construction of Solomon's Temple.
"This is the first time that archaeologists uncovered a fortified city in Judah from the time of King David," Garfinkel said in a press release. "Even in Jerusalem we do not have a clear fortified city from his period. Thus, various suggestions that completely deny the biblical tradition regarding King David and argue that he was a mythological figure, or just a leader of a small tribe, are now shown to be wrong."