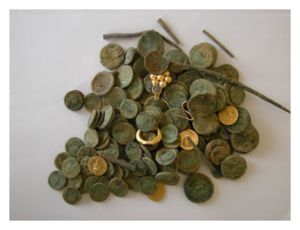 A trove of gold and silver coins and jewelry discovered near the Qiryat Gat in Israel was likely stashed there by a wealthy woman during the Bar Kokhba Revolt, the last Jewish-Roman war, archaeologists announced today (June 5).
Scientists uncovered about 140 gold and silver coins, along with
gold jewelry
, during an excavation that exposed rooms of a building dating to the Roman and Byzantine period. The treasure trove was wrapped in cloth and hidden in a pit in the building's courtyard.
The jewelry could make even a modern gal smile; among the hoard is a flower-shaped earring and a ring holding a precious stone that is covered with a seal of a winged goddess.
Two sticks of silver in the trove were likely kohl sticks, which were used type of like eyeliner in Arabia and Egypt to darken the edges of eyelids. The coins date to the reigns of emperors Nero, Nerva and Trajan, who ruled
the Roman Empire
from about A.D. 54 to 117; the emperors' images adorn one side of the coins.
And the other side of the coins shows cultic portrayals of the emperors, symbols of the brotherhood of warriors and
mythological gods
such as Jupiter seated on a throne or Jupiter grasping a lightning bolt in his hand.