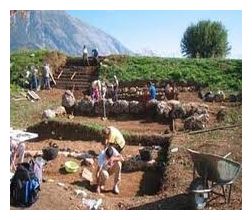 It is already known that the first residents of Marseille in Southern France were Greeks, specifically from the ancient tribe of Phocaea. But now, archaeologists discovered an ancient Greek cemetery in the region that would shed light on the habits and customs of the ancient inhabitants of the area.
The ancient graveyard, dating back to the 4th or 5th century B.C.E, was brought to light by archaeologists who have established ongoing excavations in the ancient port of Marseille. At present, they have already located six sarcophagi and urns.
"These findings in this specific area are totally unexpected," said Lionel Guévalet, director of the Provence de la société Bouygues Immobilier and added that this was a very important discovery because "it could dispute everything we know about the Marseille habitants of Greek origin."
According to the French archaeologists, this excavation will provide us with new information about the life of Greeks of Marseille, as well as about the exact position of the cemeteries, which were traditionally located outside the city.
Marseille was a Greek colony founded by the residents of Phocaea in 600 B.C.E.