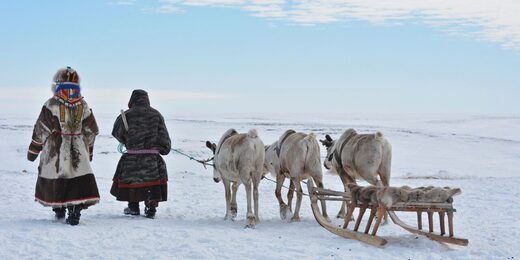 A University of Alberta anthropologist has found what might be the earliest evidence for domestication of reindeer in the Eurasian Arctic.
While examining the
remains of ancient dogs
at a site called Ust'-Polui near Salekhard in northern Siberia,
Robert Losey
and his team
unearthed a number of artifacts that appeared to relate to reindeer harnesses, which radiocarbon dating has determined to be about 2,000 years old
.
In May and June of 2019, Losey's team spent a month living with contemporary Indigenous
Nenets
reindeer herders on the Iamal tundra above the Arctic Circle. The Nenets scrutinized replicas of the artifacts and identified them as headgear parts for training young reindeer in pulling sleds.
"We weren't sure about any of these artifacts — what this stuff was, or how it works," he said. "It's just a bunch of straps, and antler pieces and swivels — a confusing mess."