Sarmizegetusa Regia was the capital and political centre of the Dacians, located in the Orăştie Mountains of the Grădiștea Muncelului Natural Park, in present-day Romania.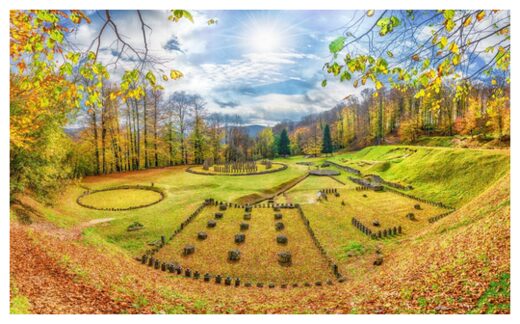 The Dacians were a Thracian people who inhabited the cultural region of Dacia, an area that incorporated parts of modern Romania, Moldova, as well as smaller parts of Bulgaria, Serbia, Hungary, Poland, Slovakia and the Ukraine.
During the reign of the Thracian King Burebista (82/61 BC to 45/44 BC), the Getae and Dacian tribes were unified into the Dacian Kingdom, with the capital being moved to Sarmizegetusa Regia (possibly from the Geto-Dacian stronghold at Argedava).
Sarmizegetusa Regia was situated at an elevation of 1200 metres near a mountain summit, serving as a nucleus of a strategic defensive system that included the fortresses of Costești-Blidaru, Piatra Roșie, Costeşti-Cetățuie, Căpâlna and Băniţa.