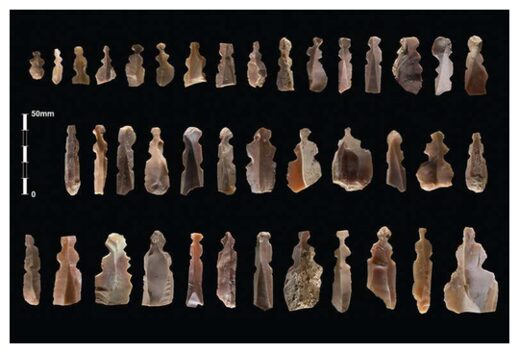 More than 100 distinctive flint artefacts from a Stone Age village in Jordan may be figurines of people used in funeral rituals, according to a team of archaeologists. However, other researchers aren't convinced that the objects represent people at all.
Since 2014, Juan José Ibáñez at the Milá and Fontanals Institution for Humanities Research in Spain and his colleagues have been excavating a site called Kharaysin in Jordan. It was occupied from around 9000 BC until at least 7000 BC. At this time, people who were previously hunter-gatherers were taking up settled farming. Kharaysin is one of the oldest examples of a village where people built houses and lived year-round.
"We were excavating funerary areas, a cemetery," says Ibáñez. This is where the researchers found the flint objects, each with the same distinctive shape and with two pairs of notches carved into it on either side.
"We know very well the tools that are made at that period," says Ibáñez. These artefacts didn't look like any of them.
The objects don't seem to have been used as tools, as they show no signs of wear from use. This suggests they were decorative or symbolic, says Ibáñez.