Archeologists from the universities of Freiburg and Mainz identify
one of the largest known sacred buildings of the Etruscans
.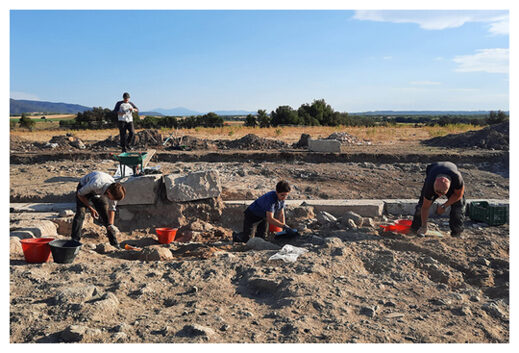 An interdisciplinary team headed by archeologists Dr. Mariachiara Franceschini of the University of Freiburg and Paul P. Pasieka of the University of Mainz has discovered a previously unknown Etruscan temple in the ancient city of Vulci, which lies in the Italian region of Latium. The building, which is
45 meters by 35 meters, is situated west of the Tempio Grande, a sacred building which was excavated back in the 1950s
. Initial examination of the strata of the foundation of the northeast corner of the temple and the objects they found there, led the researchers to date the construction of the temple towards the
end of the sixth or beginning of the fifth century BCE
.
"The new temple is roughly the same size and on a similar alignment as the neighboring Tempio Grande, and was built at roughly the same Archaic time," explains Franceschini.
"This duplication of monumental buildings in an Etruscan city is rare, and indicates an exceptional finding,"
adds Pasieka. The team discovered the temple when working on the Vulci Cityscape project, which was launched in 2020 and aimed to research the settlement strategies and urbanistic structures of the city of Vulci.
Vulci was one of the twelve cities of the Etruscan federation and in pre-Roman times was one of the most important urban centers in what is now Italy.