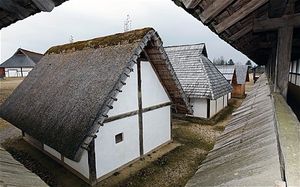 Archaeologists have unveiled the treasures of a 2,600-year-old Celtic tomb containing a wealth of art in Germany.
An ancient hill fort at Heuneburg found the 13-by-16-foot burial chamber in an excellent state of preservation and still containing gold and amber jewellery placed there seven years before the birth of Christ.
The jewellery allowed archaeologists to pinpoint a precise date - the first time they've been able to do so with early Celtic remains. It also strongly suggests that the tomb belonged to a noblewoman of the fort's early period of Celtic habitation, the 7th century BC.
The Heuneburg hill fort site is one of the oldest settlements north of the Alps and a major source of information about Iron Age Celtic culture at a time when wealth and population were increasing rapidly in a few population centres.
The Celtic citadel was first enclosed with a wood and earth wall in 700 BC a standard Celtic building technique.