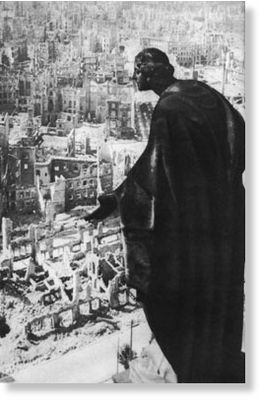 64 years since that ill-fated day when Dresden was completely destroyed by the Allied forces and defenseless civilians perished helplessly in a firestorm of bombing raids, questions remain unanswered. One of the most beautiful and green-laden cities of Europe, "with a pleasant location and a mild climate on the Elbe, Baroque-style architecture housing numerous world-renowned museums and art collections,
Dresden
became known as 'Elbflorenz' (Florence on the Elbe)." The descriptions of the city as well as pictures from that time also give us an idea about the people inhabiting it: they must have been individuals who cared about beauty, art and nature, and who were predominantly civilized and refined, personality traits reflected in their cityscape. But their lives were destined to change overnight, the beautiful city traumatised by the horrific events of Valentine's Day 1945, its charred remains testimony to the psychopaths in power's relentless oppression of humanity.
As we now know, after years of following the events of our world and observing how the pathocrats make war as an excuse to "express their thirst for blood and evilness", the deliberate targeting of the most humane of people is a favorite tactic, one with the added benefit of extinguishing certain bloodlines and genetics. It wouldn't be surprising if the pathocrats wanted Dresden destroyed for what it stood for, as a symbolic warning to the rest of humanity. And the psychopathic leaders of the time went over and beyond with brutality, ceasing only at humanity's opposition. That's how psychopaths gauge when enough is enough, since they don't posses the internal "stop-cruelty switch" themselves. Same story with the recent carnage in Gaza. Without humanity voicing its opposition (citizens rather than heads of states and governments), the Israeli government would have "cleared out" Gaza completely. And so the British and US forces, following commands from above, unleashed hell on the city of Dresden.