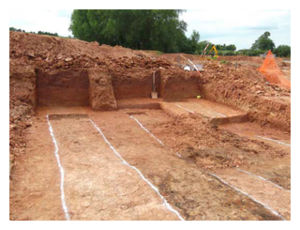 Archaeologists have unearthed the foundation of what appears to have been a massive, ancient structure, possibly a bridge leading to an artificial island, in what is now southeast Wales. The strange ruin, its discoverers say, is unlike anything found before in the United Kingdom and possibly all of Europe.
"It's a real mystery," said Steve Clarke, chairman and founding member of the Monmouth Archaeological Society, who discovered the structural remains earlier this month in Monmouth, Wales - a town known for its
rich archaeological features
. "Whatever it is, there's nothing else like it. It may well be unique."
Clarke and his team discovered the remnants of three giant timber beams placed alongside one another on a floodplainat the edge of
an ancient lake
that has long since filled with silt. After being set into the ground, the pieces of timber decayed, leaving anaerobic (oxygen-free) clay, which formed after silt filled in the timbers' empty slots, Clarke told LiveScience.
The team initially thought the timber structures were once sleeper beams, or shafts of timber placed in the ground to form the foundations of a house. However, the pieces appear to be too large for that purpose. While a typical sleeper beam would span about 1 foot (30 centimeters) across, these timber beams were over 3 feet wide and at least 50 feet long (or about 1 meter by 15 meters). The archaeologists are still digging and don't yet know how much longer the timbers are. Clarke says the structure's builders appear to have placed whole trees, cut in half lengthwise, into the ground.