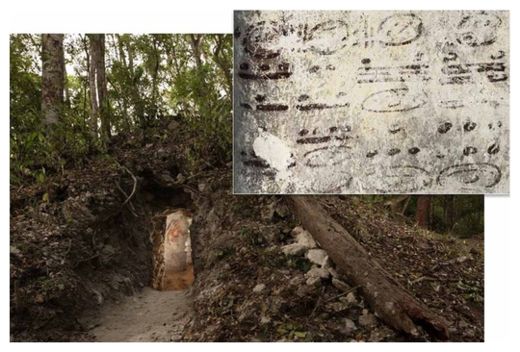 On 21 July 1561, a crowd of indigenous farmers cried out in the town square of Maní, Mexico, as a Franciscan missionary set fire to dozens of fragile Maya books, or codices. Condemned by the missionaries as "the Devil's trickery," these written texts preserved knowledge gleaned from centuries of Maya science and mathematics. Similar acts of destruction followed, obliterating hundreds of other Maya codices. Today, only a handful of readable, precolonial codices survive.
Now a team of American researchers has discovered a small trove of ancient Maya texts in a surprising place. In a paper published online today in
Science
, William Saturno, an archaeologist at Boston University, and his colleagues, report finding Maya astronomical tables and other texts painted and incised on the walls of a 1200-year-old residential building at the site of Xultún in Guatemala. The newly discovered astronomical tables are at least 500 years older than those preserved in the Maya codices, giving researchers a new glimpse of science at the height of the Maya civilization. "I think we are all astonished by this find," says Stephen Houston, an archaeologist at Brown University who was not part of the team.
Looters have extensively targeted Xultún, which was once a sprawling Maya city-state. But in March 2010, a member of Saturno's team, Boston University student Maxwell Chamberlain, discovered part of a painted wall exposed by the illicit diggers. Subsequent archaeological excavation revealed three intact room walls within a residential compound: the walls bore paintings of human figures - including an elaborately attired Maya king - as well as vertical columns of numbers written in Maya hieroglyphs.