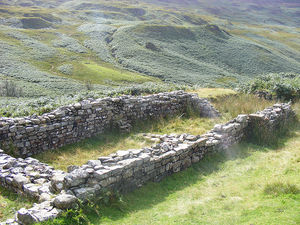 A freelance archaeologist and his wife came face to face with a chunk of unique Roman history as they walked across a Wigton farm.
Karl James Langford, 36, and his wife Lisa, 43, are over the moon with their chance discovery of a sandstone fragment which still bears part of a Roman inscription.
The couple had gone with their two children - a boy aged two and a five-month-old girl - to visit the remnant of the Maglona Roman fort near Wigton last week when Lisa spotted the stone on the ground. It had been exposed by a heavy rain storm.
Still clearly visible on the sandstone fragment - which is about the size of a tea saucer - are the Roman letters M, R and P.
Karl, 36, believes the artefact may once have spelled the name of the settlement, which was abandoned a few decades before the Romans pulled out of Britain in AD 410.