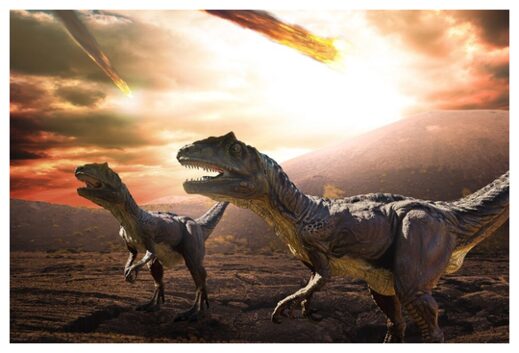 A groundbreaking study led by researchers at
Florida Atlantic University
and an international team of scientists conclusively confirms the time year of the catastrophic Chicxulub asteroid, responsible for the extinction of dinosaurs and 75 percent of life on Earth 66 million years ago.
Springtime, the season of new beginnings,
ended the 165-million-year reign of dinosaurs and changed the course of evolution on Earth. Results of the study, published in the journal
Scientific Reports
,
greatly enhances the ability to trace the first stages of damage to life on Earth. FAU's
Robert DePalma
, senior author and an adjunct professor in the
Department of Geosciences
,
Charles E. Schmidt College of Science
, and a doctoral student at the University of Manchester; and
Anton Oleinik
, Ph.D., second author and an associate professor, FAU's Department of Geosciences, contribute to a major scientific advancement in the ability to understand the massive impact that brought an end to the dinosaurs.
"Time of year plays an important role in many biological functions such as reproduction, feeding strategies, host-parasite interactions, seasonal dormancy, and breeding patterns," said DePalma. "Hence, it is no surprise that the time of year for a global-scale hazard can play a big role in how harshly it impacts life. The seasonal timing of the Chicxulub impact has therefore been a critical question for the story of the end-Cretaceous extinction. Until now, the answer to that question has remained unclear."
For decades, it has been known that the cataclysmic Chicxulub asteroid impact hit the Yucatan peninsula 66 million years ago. The impact triggered the third-greatest extinction in Earth's history, dramatically changing global biomes in ways that directly relate to current global ecological crisis. Yet, the finer details of what happened after impact and how those events led to the third-worst mass-extinction in Earth's history remain very hazy.
The new study was a long-term effort that started in 2014 and applied a combination of traditional and cutting-edge techniques to piece together a trail of clues enabling identification of the season for the Chicxulub impact event. DePalma examined the Tanis research locality in southwestern North Dakota, one of the most highly detailed Cretaceous-Paleogene (KPg) boundary sites in the world, to understand the inner workings of the extinction event. The research provides important new data while building new academic bridges.