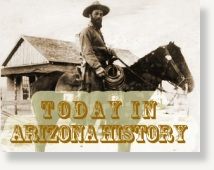 Thursday, Feb. 17
On this date in 1865, William Wrightson, who brought the first printing press to Arizona, was killed by Apaches in the Santa Rita mountains. Mount Wrightson is named for him.
On this date in 1908, Mrs. Ellen Lynn was appointed as the first woman mail carrier in Tucson. Lynn covered Rural Route 1, which circled the entire town of Tucson, in a horse and buggy.
On this date in 1909, Geronimo died at Fort Sill, Okla.
On this date 1913, a prehistoric graveyard was unearthed along Sycamore Creek near Prescott containing the skeletons of people who appeared to have been at least 8 feet tall.