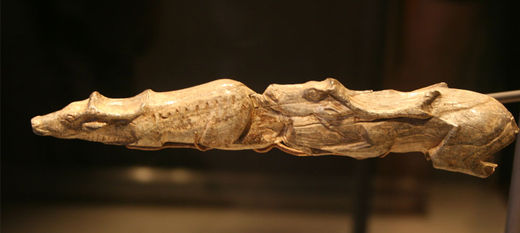 Reindeer are almost mythical creatures. They are associated with Santa Claus and sleighs, with the idea of a Scandinavian icy white Christmas that is far more magical than the reality we normally experience in warmish, wettish Britain.
But for me there's also something very special about reindeer because they are survivors from the Ice Age, clinging on when so many other magnificent large mammals died out at the end of the Pleistocene, through climate change or human hand or a bit of both. They are animals that were important to our ancestors, and animals that are still revered by the Siberian tribes who have a long history of hunting and herding them.
I first visited the icy north of Siberia five years ago while making a BBC documentary about ancient human migrations. We were filming with indigenous Siberians of the Evenki tribe, and staying in a remote reindeer-herders camp - living in tents that were kept warm with larch stoves while it was a bone-chilling -40C outside. (The stoves went out overnight and in the morning I would wake up to find my eyelashes stuck together with ice.)
There were reindeer all around us in the snowy, sparse larch forest. At night, they came in, walking cautiously around our tents, the thick fur behind their large hooves muffling their footsteps. One morning I wandered off into the forest to answer a call of nature. A single pure-white reindeer followed me. I wandered further and further with the reindeer following me a few paces behind. It felt as though I had made some kind of connection with this beautiful, ethereal creature. After I had done what I'd come for, I started to make my way back to camp, and wondered if the reindeer would follow me back. He didn't. Instead, he started tucking into the yellow snow I'd created. The mystical moment was shattered. He wanted nothing more than a few salts from my urine. Later I discovered that this apparently common behaviour was enshrined in a Siberian myth about the domestication of the first reindeer: a woman who went for a wee managed to catch and tame a reindeer who, like mine, had been after the yellow snow.