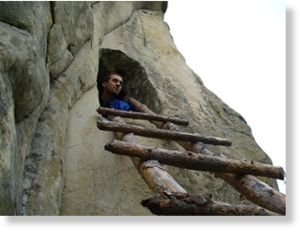 One of the most interesting ecumenical sites in Romania is just a stone´s throw away from Bucharest, though far away from any civilisation or tourism circuit. An isolated, spiritual and magical place, full of history, where time seems to stand still. The cave churches and settlements of Buzau are not less than the cradle of Christianity on Romanian territory - an archaeological and cultural treasure amidst breathtaking landscape.
Locals believe in the spirituality of this region, which has been used as a worship place for several thousands of years.
Hundreds of legends and paranormal appearances have been reported. Even dictator Nicolae Ceausescu sent a special agent of his secret service to investigate the so-called enigma of Buzau Mountains.
Today, only very few tourists visit this extraordinary region, not only due to the missing infrastructure, but also due to the widely neglected tourism promotion by local authorities.
This place is unlike any other tourism destination in Romania. It is not made for hundred of buses, even off-road cars cannot access some areas. It is not made just to take some pictures and to eat some grilled meat with French fries.
The journey is the reward. You can already feel it once you have left the national road between Buzau and Brasov, in the village of Patarlagele where you enter the
amber region of Colti
, the only place in Romania where amber was extracted. Amber is a fossil resin and estimated to be 50-60 million years old. The Romanian amber is regarded as one of the oldest in the world. Amber is said to have special healing properties and is used as talisman in many cultures. The exploitation of amber in Colti is done since time immemorial, mostly for making jewels or religious objects.