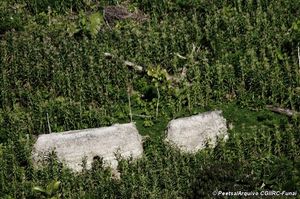 Brazilian officials have confirmed the existence of approximately 200 Indians who live in the western Amazon with no contact with the outside world.
This uncontacted tribe is not "lost" or unknown, according to tribal advocacy group Survival International. In fact, about 2,000 uncontacted Indians are suspected to live in the Javari Valley where the tribe's homes were seen from the air. But confirming the tribe's existence enables government authorities to monitor the area and protect the tribe's way of life.
In 2008, Survival International released photos of another uncontacted tribe near the Brazil-Peru border. The striking images revealed men aiming arrows skyward at the plane photographing them. Uncontacted Indian groups are aware of the outside world, a Survival International spokesperson told LiveScience at the time. But they chose to live apart, maintaining a traditional lifestyle deep in the Amazon forest. The latest images reveal that the newly confirmed tribe grows corn, peanuts, bananas and other crops.