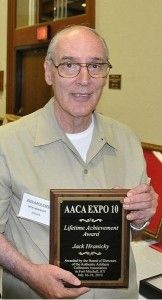 Bear's Den Rock has captured the attention of travelers in the northern Shenandoah Valley since colonial times and for thousands of years before by the indigenous people who hunted and fished in the region. Now, a local archaeologist believes that the prominent outcrop just south of Virginia's Route 7 in Clarke County is a part of a larger 12,000 year old celestial calendar used by Native Americans to mark the changing of the seasons.
"Although archaeological sites have been discovered across the United States, there's nothing like this above ground or this old in North America," says Dr. Jack Hranicky about the site located just off Ebenezer Road. Hranicky, also known as "Dr. Jack" to friends and associates, is a Virginia Registered Professional Archaeologist (RPA) credited with authoring 32 books on North America's prehistory and discoverer of over a half-a-dozen other Native American solstice sites.
"This preserved site has numerous properties that prove its use 12,000 years ago by Paleo-Indians and classifies it as a major ceremonial and calendar site on the Shenandoah River," said Dr. Jack "I classify it as an 'Horizon Observation Station' which produced a Paleo-calendar for early Americans."