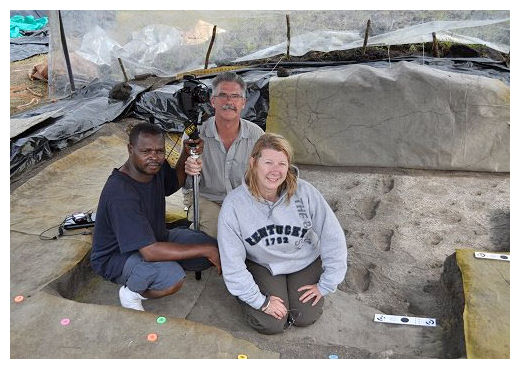 Las Vegas - A famous trail of footprints once thought to have been left behind by a family of three human ancestors may have actually been made by four individuals traveling at different times.
In a new examination of Laetoli in northern Tanzania, where a 3.6-million-year-old track of footprints of the
bipedal human ancestor
Australopithecus
is preserved, researchers now argue that the classic understanding of this site is mistaken. The footprints have been buried since the mid-1990s for preservation, but a section recently opened for study as Tanzanian officials make plans for a museum on the site.
Preserved at Laetoli are two lines of hominid prints, along the crisscrossing tracks of early rabbits and other animals. The site is the earliest example of an
upright, humanlike gait
in our ancestors. Early analysis had suggested the tracks were laid down by three individuals, evolutionary relatives of the famous
Australopithecus aferensis
"Lucy," discovered in Ethiopia. One
Australopithecus
walked next to another, while a third, smaller individual trailed behind, stepping in the tracks of one of the larger individuals.