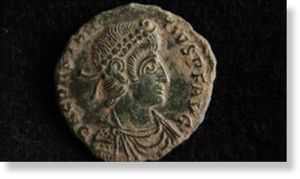 A chance discovery of coins has led to the bigger find of a Roman town, further west than it was previously thought Romans had settled in England.
The town was found under fields a number of miles west of Exeter, Devon.
Nearly 100 Roman coins were initially uncovered there by two amateur archaeological enthusiasts.
It had been thought that fierce resistance from local tribes to Roman culture stopped the Romans from moving so far into the county.
Sam Moorhead, national finds adviser for Iron Age and Roman coins for the PAS at the British Museum, said it was one of the most significant Roman discoveries in the country for many decades.