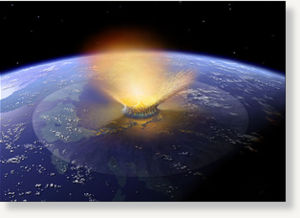 There seems to be a tendency to set evolution and catastrophism as opposite ways of thinking. That's a big misunderstanding. As if Darwin or the concept of evolution would need some defending against some mystical, religious or supernatural concepts, there is coined the term punctuated evolution. I see no need for any such term. Evolution as a theory in the form as Darwin put it, needs refinements in the same way as Einstein refined the theories of Newton. Nothing more, nothing less.
So what has changed since Darwin to warrant this discussion or, more specifically, what has to be added or refined?
In short, the paraphrase of the "survival of the fittest" must be enlarged to the "survival of the fittest of the luckiest". Evolution as such has no ultimate goal. It has only temporary goals, as long as we see the universe as a changing place.
Taking as an example our home planet, the Earth, it seemed for billions of years, from some 3.8 billion of years ago (when the bombardment in the Solar System lowered to its nowaday level) to some 800 million years ago, a suitable place for micro-organisms to fill every niche available to them. At some places there most probably was some cooperation between some micro-organisms that was nearly or exactly like multi-cellular life.