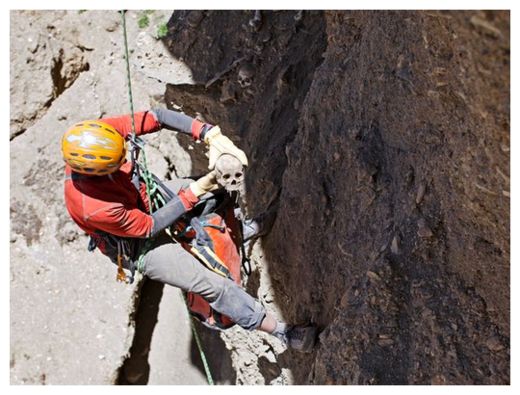 The remains of 27 ancient men, women, and children have been found in cliffside caves in Nepal. Many of the bones bear cut marks that point to a previously unknown Himalayan death ritual, experts say.
The corpses - many of which had been stripped of flesh - were placed in the high mortuaries some 1,500 years ago, the team announced Friday.
Nearly 67 percent of the bodies' had been defleshed, most likely with a metal knife, say the researchers, who found the remains in 2010.
After the de-fleshing process, the corpses had been neatly laid to rest on wide wooden shelves, the researchers speculate. But due to centuries of exposure to the elements, the bones and bunks - and much of the caves themselves - had collapsed by the time the team entered the chambers.
Also in the jumble: goat, cow, and horse remains - perhaps sacrificial offerings for the dead, though their purpose remains a mystery.
Dug into characteristically reddish cliffs of the Upper Mustang district, the human-made caves lie at 13,800 feet (4,200 meters) above sea level, high above the village of
Samdzong.
In ancient times, rock outcrops and probably ladders would have eased access to the caves. Since then, however, erosion has rendered the chambers accessible to only expert climbers, such as seven-time Everest summiter
Pete Athans,
who co-led the team.