It may sound unbelievable but a Greek-Canadian scientist is stating that the Ancient Greeks may have reached America years before the Spanish Seafarer Columbus did.
Researcher of Aegean Scripts, Dr. Minas Tsikritsis, in the text by Plutarch "On the Apparent Face in the Orb of the Moon," in paragraphs 941A-942, claims that he has identified and demonstrated through computer programs the restoration of a forgotten historical reality, which had until now eluded many researchers.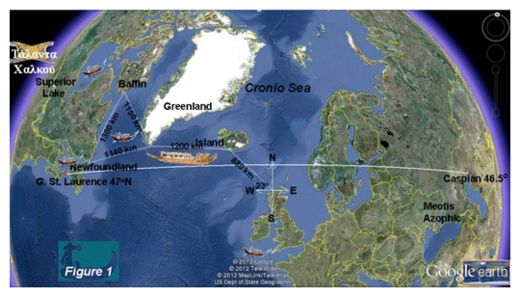 In the study, he indicates that the prehistoric Greeks knew that "west of the three islands and northwest of Britain" there was a "great" continent. Two years ago, another academia, Professor I. Mariolakos, identified the great continent, surrounding the great Ocean, as today's North America.
Dr. Tsikritsis states that, "even before the time of Christopher Columbus, there was a communication which began during the Minoan era and continued until the Hellenistic times. The purpose of these travels during the Bronze Age was related to trade and the transportation of pure copper from Lake Superior of Canada."
According to his findings it seems that after the first Minoan merchants, the Mycenaeans continued the journey, and, as reported by Plutarch, they sent Hercules to revitalize the presence of the Greek element, which had been diminished by the continuous miscegenation with the locals. Later, during the Iron Age, the interest in the region declined and until the Hellenistic time, it remained only as a conventional ceremonial tradition. So every thirty years some ships were sent to the areas that followed the worship of Cronus in order to renew the priest personnel.