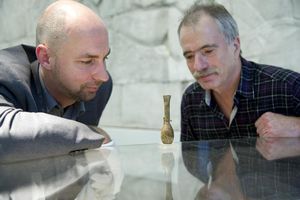 The
corpus delicti
is a plain flacon from among the possessions of Pharaoh Hatshepsut, who lived around 1450 B.C., which is on exhibit in the permanent collection of the Egyptian Museum of the
University of Bonn
. For three and a half millennia, the vessel may have held a deadly secret. This is what the Head of the collection, Michael Höveler-Müller and Dr. Helmut Wiedenfeld from the university's Pharmacology Institute just discovered.
After two years of research it is now clear that the flacon did not hold a perfume; instead, it was a kind of skin care lotion or even medication for a monarch suffering from eczema. In addition, the pharmacologists found a strongly carcinogenic substance. Was Hatshepsut killed by her medicine?
When Michael Höveler-Müller became the curator of the Egyptian Museum of the University of Bonn in 2009, it occurred to him to examine the interior of the vessel that, according to an inscription, belonged to Pharaoh Hatshepsut. Its neck had been blocked with what was generally considered "dirt," but Höveler-Müller suspected that it might also be the original clay stopper. So possibly, some of the original contents might still be inside. In Dr. Helmut Wiedenfeld from the Pharmacy Institute, he found just the right partner, to get to the bottom of this question and of the flacon.