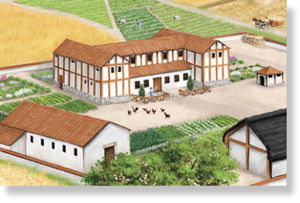 An excavation of Yewden Villa at Mill End in 1912 found a number of unusual discoveries, the most startling of which was the remains of 97 newborn babies.
The theory that the villa was used as a Roman brothel has also gained weight after the latest archaeological findings.
A H Cocks, former curator of Buckinghamshire County Museum, noted the discovery but focused on the tonne of pottery that was also found.
The remains of the infants, buried between 150 AD and 200 AD and all the same size, were rediscovered in cigarette boxes at the Aylesbury museum in 2008.
Dr Jill Eyers, director of Chiltern Archaeology, pushed for extensive investigation into the bones, which has confirmed beyond doubt that each baby was killed shortly after birth.