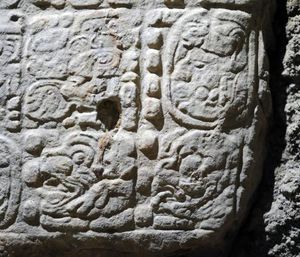 Archaeologists working at the site of La Corona in Guatemala have discovered a 1,300 year-old year-old Maya text that provides only the second known reference to the so-called "end date" for the Maya calendar on December 21, 2012. The discovery, one of the most significant hieroglyphic find in decades, was announced today at the National Palace in Guatemala.
"This text talks about ancient political history rather than prophecy," says Marcello A. Canuto, Director of Tulane's Middle American Research Institute and co-director of the excavations at the Maya ruins of La Corona. "This new evidence suggests that the 13 Bak'tun date was an important calendrical event that would have been celebrated by the ancient Maya;
however, they make no apocalyptic prophecies whatsoever regarding the date
," says Canuto.
La Corona for many decades has been known as the enigmatic "Site Q," the source of many looted sculptures whose whereabouts had remained a mystery until its rediscovery only fifteen years ago. For the past five years, Marcello A. Canuto and Tomás Barrientos Q. (Director of the Centro de Investigaciones Arqueológicas y Antropológicas at Universidad del Valle de Guatemala) have directed the La Corona Regional Archaeological Project (PRALC) which has been investigating this intriguing Classic Maya city and its jungle environs.