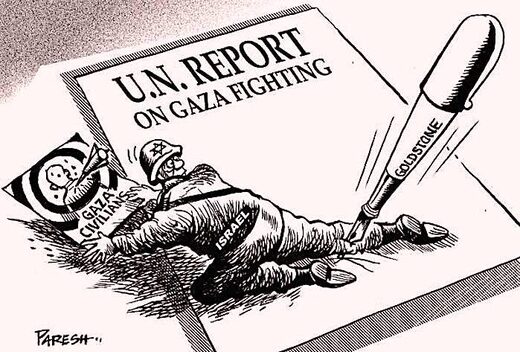 One of the first things that struck me while reading
the cables from the US embassy to Israel in Tel Aviv
was how worried the Israeli government seems to be about
the Goldstone Report
into war crimes committed during Israel's 2008-2009 attack on the people of Gaza.
In
cable 09TELAVIV2777
of December 2009, Israeli Prime Minister Benjamin Netanyahu is said to have named the report as
one of three "principal threats" facing Israel
— the other two being Iran's alleged nuclear programme and "missile proliferation".
Second, there are important insights into the
high level of collaboration between Israel and forces that have been called the
"Palestinian Contras"
in the occupied West Bank and Gaza Strip. Indeed, the
first "cablegate" headline
on Palestine was sourced from
cable 09TELAVIV1177
, in which
Israeli Defense Minister Ehud Barak
is reported to have said he "had consulted with Egypt and Fatah prior to Operation
Cast Lead
, asking if they were willing to assume control of Gaza once Israel defeated Hamas". In other words,
Fateh leader Mahmoud Abbas
(whose term as PA president expired in January 2009)
knew the massive Israeli onslaught was coming but said nothing.
This was widely suspected, but to read confirmation of it from a confidential US government source is something new.