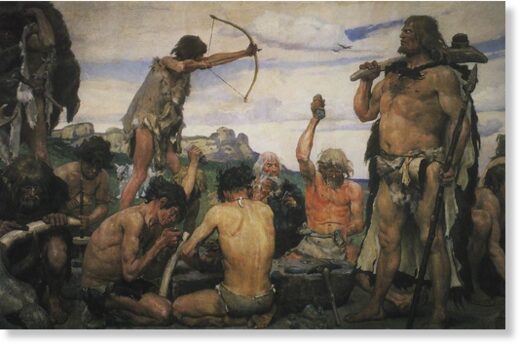 Everything I read, learned and taught about the stone ages and beginnings of civilization was wrong. An anthropologist and an archaeologist have got together to update us all on the discoveries that have been appearing in the scholarly literature over the past sixty years. The findings give great encouragement to those of us who are concerned about humanity's ability to change course in the interests of our long-term survival.
I once liked the idea of Rousseau: in our "native state" we are innocent, good; it is the chains that have come with civilization that have degraded us.
But over time I came to fear Hobbes might be more right than I wanted him to be: in our native state our life is "nasty, brutish and short"; it is the controls that civilization has imposed that have obliged us to live according to the "better angels of our nature".
No.
Neither Rousseau nor Hobbes had the right model.
We know that people as a whole cannot be lumped under either of the simplistic labels of "good" and "bad". We can be very, very good and we can be very, very bad. For those of us who see the need for change in the way we live if we are to get through the threats we are facing now of runaway climate change and nuclear war and god knows what else and are keen to join any organized action for a better future, we can take heart from David Graeber and David Wengrow who, in
The Dawn of Everything,
demonstrate that
humanity has done things better in the past and humanity can change
.