THE EYE OF THE SAHARA, ALSO KNOWN AS THE RICHAT STRUCTURE AND THE EYE OF AFRICA, IS A GEOLOGICAL FEATURE IN THE SAHARA DESERT'S ADRAR PLATEAU, LOCATED IN WEST-CENTRAL ISLAMIC REPUBLIC OF MAURITANIA.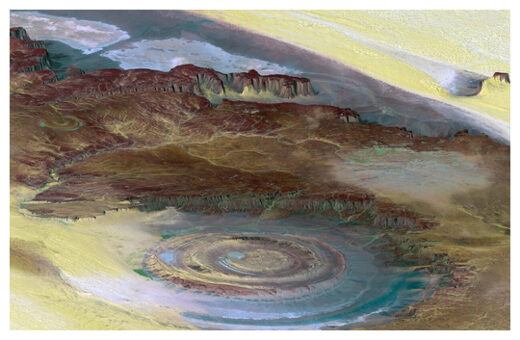 The structure is an eroded elliptical dome of sedimentary rock, that ranges in age from the Proterozoic (2500 to 538.8 million years ago) within the centre, to Ordovician (488.3 to 443.7 million years ago) sandstone around its periphery.
The dome has a diameter of 40 kilometres (25 mi), with an interior comprised of intrusive and extrusive igneous rocks, including rhyolitic volcanic rocks, gabbros, carbonatites and kimberlites.
The rhyolitic rocks have been interpreted as lava flows that are part of two distinct eruptive centres formed from the remains of two maars, a low-relief volcanic crater caused by a phreatomagmatic eruption (an explosion caused when groundwater comes into contact with hot lava or magma).