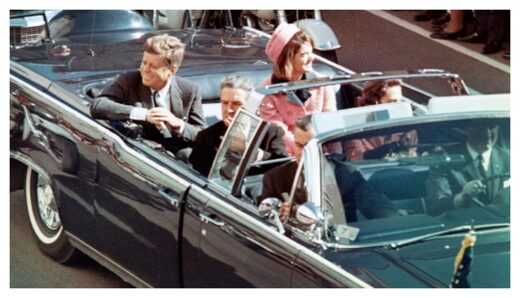 Much has been made of the September 9, 2023 simultaneous reports in
The New York Times
and
Vanity Fair
of the claims of a former Secret Service agent, Paul Landis, who was part of the security detail in Dallas, Texas when President John F. Kennedy was assassinated on November 22, 1963.
Like so many reports by such media that have covered up the truth of the assassination for sixty years, this one about "the magic bullet" is also a red herring.
It encourages pseudo-debates and confusion and is a rather dumb "limited hangout," which is a
strategy used by intelligence agencies to dangle some truth in order to divert attention from core facts of a case they are desperate to conceal.
With these particular articles, they are willing to suggest that maybe the Warren Commission's magic bullet claim is possibly incorrect. This is because so many people have long come to realize that that part of the propaganda story is absurd, so the coverup artists are willing to suggest it might be wrong in order to continue debating meaningless matters based on false premises in order to solidify their core lies.
Despite responses to these two stories about Landis that credit them for "finally" showing that the "magic bullet" claim of the Warren Commission is now dead, it would be more accurate to say they have revived debate about it in order to
sneakily hide the fundamental fact about the assassination: that the CIA assassinated JFK.
We can expect many more such red herrings in the next two months leading up to the sixtieth anniversary of the assassination.
They are what one of the earliest critics of The Warren Commission, Vincent Salandria, a brilliant Philadelphia lawyer, called "a false mystery."
He said
:
After more than a half century, the historical truth of the assassination of President John F. Kennedy has been finally established beyond rational dispute. The Kennedy assassination is a false mystery. It was conceived by the conspirators to be a false mystery which was designed to cause interminable debate. The purpose of the protracted debate was to obscure what was quite clearly and plainly a coup d'état. Simply stated, President Kennedy was assassinated by our US national security state in order to abort his efforts to bring the Cold War to a peaceful conclusion.
That the corporate mainstream should trumpet these reports as important is to be expected, but that they are also so greeted by some people who should know better is sad.
For there is no mystery about the assassination of President Kennedy; he was assassinated by the CIA and the evidence for this fact has long been available.
And the Warren Commission's claim that Lee Harvey Oswald fired the so-called "magic bullet" - Commission Exhibit 399 - that entered JFK's back and exited his neck and then went into the back of Gov. John Connally, who was sitting in the front seat, zigzagging in multiple directions, causing him five wounds and then emerging in pristine condition, has always been risible.
Only fools or those ignorant of the details have ever believed it, but desperate conspirators led by the late Arlen Specter, the future Senator, did desperate things for The Warren Commission in order to pin the rap on the patsy Oswald and cover-up for the killers.