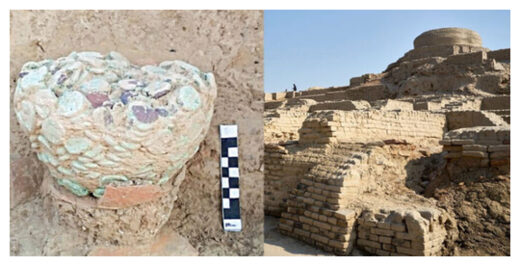 A pot full of copper coins was
discovered
from a stupa (a dome-shaped building erected as a Buddhist shrine) at the UNESCO World Heritage Site of Mohenjo Daro during conservation work in Pakistan's Sindh province.
Mohenjo Daro
, or "Mound of the Dead" is an ancient Indus Valley Civilization city that flourished between 2600 and 1900 BCE. The ruins of the huge city of Moenjodaro - built entirely of unbaked brick lie in the Indus Valley. The site was discovered in the 1920s.
The Archaeological Ruins at Moenjodaro are the best preserved urban settlement in South Asia. The acropolis, set on high embankments, the ramparts, and the lower town, which is laid out according to strict rules, provide evidence of an early system of town planning.
Experts evaluated the discovery of the pot filled with copper coins as the first significant artifact discovery in 5,000-year-old city ruins after 93 years.
Director of Archaeology Mohenjodaro, Dr Syed Shakir Shah, who led the team comprising archaeological conservator Ghulam Shabir Joyo, had confirmed that the staff busy with preservation work had stumbled upon the pot of coins on Wednesday.
Shah said laborers recovered the pot of coins during excavation but buried it again. Later some of them informed the officials of the archives department who then dug them out.
The team continued the work for three hours and safely secured the coins buried in the debris along with the jar wherein they were kept.