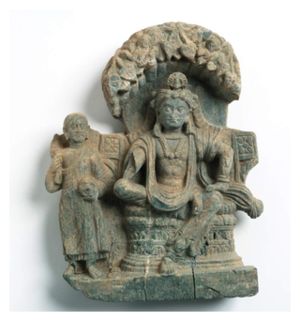 In the ruins of a Buddhist monastery in Afghanistan, archaeologists have uncovered a stone statue that seems to depict the prince Siddhartha before he founded Buddhism.
The
stone statue
, or stele, was discovered at the Mes Aynak site in a ruined monastery in 2010, but it wasn't until now that it was analyzed and described. Gérard Fussman, a professor at the Collège de France in Paris, details his study in
The Early Iconography of Avalokitesvara
(Collège de France, 2012).
Standing 11 inches (28 centimeters) high and carved from schist - a stone not found in the area - the stele depicts a prince alongside
a monk
. Based on a bronze coin found nearby, Fussman estimates the statue dates back at least 1,600 years. Siddhartha lived 25 centuries ago.
The prince is shown sitting on a round wicker stool, his eyes looking down and with his right foot against his left knee. He is "clad in a dhoti (a garment), with a turban, wearing necklaces, earrings and bracelets, sitting under a pipal tree foliage. On the back of the turban, two large rubans [are] flowing from the head to the shoulders," writes Fussman in his new book. "The turban is decorated by a rich front-ornament, without any human figure in it."
The monk stands at the prince's right side, his right forearm shown upright. In his right hand the monk holds a lotus flower or palm (now broken), and in his left is a round object of some kind.
Based on the iconography of the stele, particularly the pipal leaves, Fussman believes the prince is Gautama Siddhartha Sakyamuni, who is said to have achieved enlightenment, become
a Buddha
- someone of divine wisdom and virtue - and founded
the religion of Buddhism
. This stele shows him at an early moment in his life, when he has yet to start his fateful journey of enlightenment.