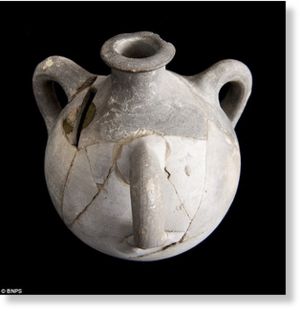 It looks innocent enough. An ancient piece of pottery, in pretty good condition aside from a few cracks here and there.
However, this artefact is causing somewhat of a stink in archeological circles.
It was assumed this ancient relic was a piece of tableware when it was unearthed at a ruined castle 25 years ago. However, it has emerged it is a 17th century stink bomb used to clear rooms during raids.
For years, experts wrongly-assumed the pot was used to store olive oil. But when a picture of it was posted on Facebook a Dutch archeologist identified it as a 400-year-old 'stankpotten' - a stink bomb.
With fuses attached to them, these bombs were often filled with substances including charcoal, sulphur and pepper seeds and exploded as they smashed.
They filled rooms with noxious smells and smoke, clearing them immediately - exactly the same principle used by the SAS when they stormed the Iranian Embassy in 1980.
The bomb - found at Corfe Castle in Dorset - dates back to the Civil War, when Cromwell's Parliamentarian forces attacked the fortress that was a royalist stronghold.