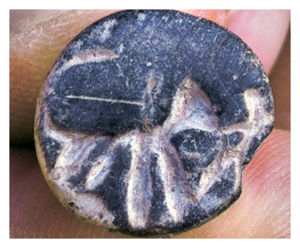 A small stone seal found in Israel could be the first archaeological evidence of the story of Samson, the
Bible's
most famous strongman.
Less than an inch in diameter, the seal depicts a man with long hair fighting a large animal with a feline tail.
The seal was excavated at the Tell Beit Shemesh site in the Judaean Hills near Jerusalem at a level that dates to roughly the 11th century BC.
Biblically speaking, this was during the time when the Jews were led by leaders known as Judges, one of whom was Samson.
The location where the stone seal was unearthed, close to the Sorek river that marked the ancient border between Israelite and Philistine territories, suggests the figure could represent the Biblical slayer of Philistines.
A character that jumped from the
Old Testament
into legend, Samson was given supernatural strength by God to overcome his enemies.
The strength, which Samson discovered after encountering a lion and ripping it apart with his bare hands, was contained in his long hair.