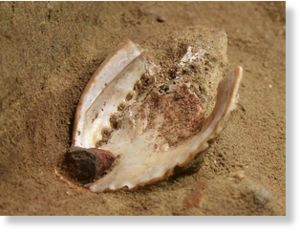 Abalone shells used to mix paint found in South African cave, new study says.
A coating of bright red powder on the insides of a pair of 100,000-year-old abalone shells is evidence of the oldest known art workshop, a new study says.
The powder was found inside two shells in Blombos Cave near Still Bay, South Africa (
map
). The substance is the dried remains of a primitive form of paint made by combining colorful clay called ochre, crushed seal bones, charcoal, quartzite chips, and a liquid, such as water.
"A round [stone] covered the opening of one of the shells, and underneath it was absolutely bright red," said study leader Christopher Henshilwood, an archaeologist at the University of Bergen in Norway and the University of the Witwatersrand in South Africa.
In addition to the shells, the team also found grindstones, hammerstones, the remains of a small fire pit, and animal bones that were used to transfer small amounts of the paint.