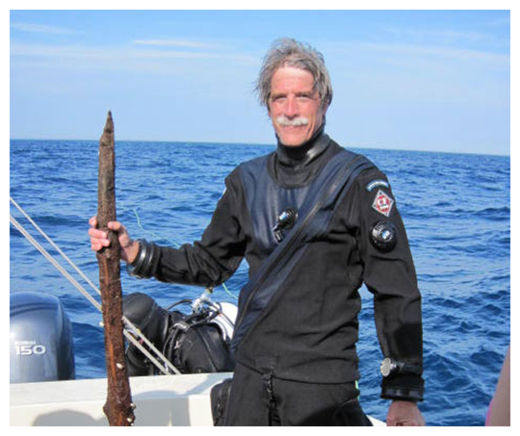 An ancient piece of wood found at the bottom of Lake Huron hints at time, about 8,900 years ago, when this area was dry land where ancient hunters may have lived.
The piece of wood measures about 5-feet, 6-inches (1.7 meters) and seems to have been a
tool of some kind.
"The first thing you notice is that it appears to have been shaped with a rounded base and a pointed tip," said John O'Shea, an anthropologist at the University of Michigan, Ann Arbor. "There's also a bevel on one side that looks unnatural, like it had to have been created. It looks like it might have been used as a tent pole or a pole to hang meat."
A more-detailed analysis is under way to determine if this is indeed the case. Using carbon dating - which looks at a radioactive form of carbon in a sample to determine its age - the wood was estimated to be about 8,900 years old.