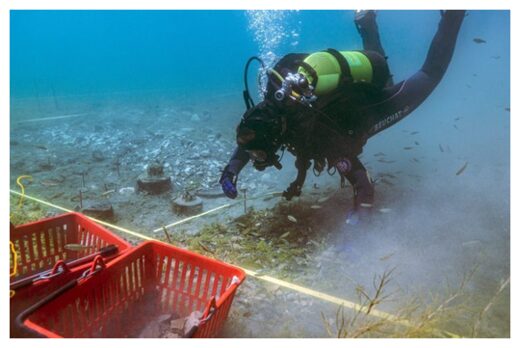 A research team from the University of Bern has managed to precisely date pile dwellings on the banks of Lake Ohrid in the south-western Balkans for the first time: they came into being in the middle of the 5th millennium BC. The region around the oldest lake in Europe played a key role in the proliferation of agriculture.
Remains of under-water sites are a stroke of luck for pre-historic archaeology. The wooden piles from which their foundations were built have been preserved excellently: In the absence of oxygen, they were not corroded by bacteria or fungi. Wood preserved in this way is excellently well suited for dendrochronological examinations, which can be dated using growth rings. The age of the wood, and thus the time at which the settlements were built, can be determined in combination with radiocarbon dating. This method has now been applied outside of the Alpine region for the first time.
Under the leadership of the University of Bern, around 800 piles were dated in the large international EXPLO project (see info below). They come from a site on the east coast of Lake Ohrid. The results were presented recently in the
Journal of Archaeological Science.
The new findings prove that the settlement in the Bay of Ploča Mičov Grad near the Macedonian town of Ohrid was constructed in different phases. And over thousands of years: From the Neolithic Period (middle of the 5th millennium BC) until the Bronze Age (2nd millennium BC). Until now, it was assumed that it was a settlement from the period around 1000 BC. This intensive construction activity explains the extraordinary density of wooden piles at the site. The settlements were built virtually over one another.