Archeologists working on the latest dig at the site of the Terracotta Warriors in Xi'an say the project has already turned up vital historical finds.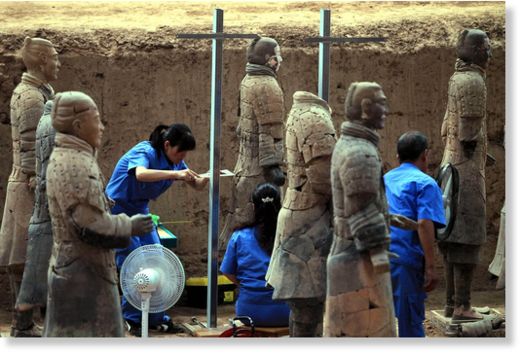 Experts restarted work on the No 1 pit of the Terracotta Warriors in 2009 and have so far unearthed 310 artifacts, including parts of chariots, weapons and tools, along with 12 pottery horses in three groups, and about 120 more warriors.
"For the first time, we have found a painted, cortex shield on a chariot, which is the first of its kind to be discovered in any of the three pits," said Cao Wei, curator of the Museum of the Terracotta Warriors and Horses of Qin Shi Huang.
Shields used by soldiers in the Qin Dynasty (221-206 BC) were 60 cm long and 40 cm wide, with red, green and white geometric patterns.
"The shield was partly broken, and it's believed it was the type used by a high-ranking official, as it's larger and had colorful patterns," said Zhang Weixing, a researcher on the archaeology team.