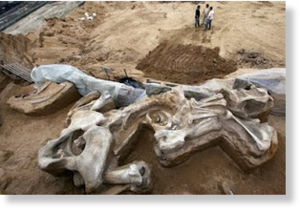 The world's first collective graveyard of a herd of mammoths has been discovered at the excavation site for coal in Serbia.
Heavy torrential rain earlier this week exposed the remains of what could be up to six mammoths, at an open pit mine in Kostolac, east of Belgrade not far from a site where two other mammoth remains had been uncovered in recent years.
Miomir Korac, director of the Archeological Project Viminacium, which is named after the Roman provincial capital along the Danube River, said that the discovery came as a complete surprise.
The archeologists were first alerted to one set of giant remains of a mammoth that was damaged by the mining machinery. But then the heavy downpour rinsed away the yellow sand.