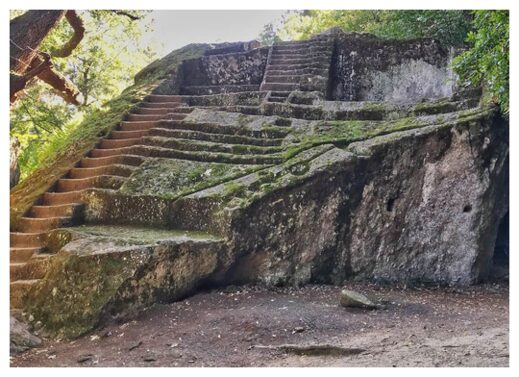 The so-called Etruscan Pyramid is a megalithic rock-cut monument, located in the Tacchiolo valley near the city of Viterbo, Italy.
The monuments name is owed to its lateral pyramidal shape carved from natural magmatic rock, whilst its construction is probably first attributed to the Rinaldonian Civilisation that preceded the Etruscans. The
Rinaldonian Civilisation emerged between 4000-2000 BC, and were highly skilled in working stone to construct complex ceremonial monuments, such as the Poggio Rota Stone Circle in Tuscany.
Other sources still suggest that the pyramid was an Etruscan construction, or was adapted from Rinaldonian construction from around 700 BC to 400 BC, which has some weight as a theory, as there are several other Etruscan ruins in the vicinity.
The Etruscans emerged around 900 BC and established three confederacies of cities, until they were succeeded by the rising Roman Kingdom that spread to dominate the region in the 5th and 4th century BC.