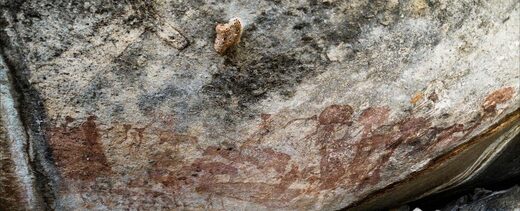 In 2018, archaeologists made a staggering discovery in Swaga Swaga Game Reserve in central Tanzania:
52 previously undocumented rock shelters
, deliberately painted with rock art. Weathering had mostly destroyed all but a handful
; but of those that were preserved, one was an absolute enigma.
The site, named Amak'hee 4, was elaborately painted with a frieze of figurative art - including three mysterious, anthropomorphic figures with extremely oversized heads.
These could be, according to archaeologist Maciej Grzelczyk of the Jagiellonian University in Poland, a clue to figuring out what other, similar trios of figures found in other rock art panels might be.