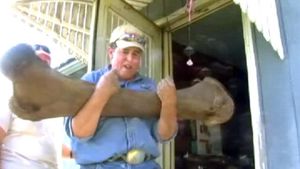 An excavation is underway thanks to the discovery of the bones of a prehistoric mammoth in one Oskaloosa, Iowa, family's backyard.
According to ABC's affiliate ABC5-WOI in Des Moines
, the first bones were discovered in July 2010 by a man named John and his two teenage sons when they were walking in the woods of their property looking for blackberries.
One of his sons pointed out what he thought was a ball in the creek below to his family. Once they got closer, John, who has an interest in archeology, noticed a marrow line at the top of the object, said reporter ABC5-WOI reporter Katie Eastman, who interviewed the family.
Realizing this was no ball, the family dug out what has now been identified as a mammoth femur.
Despite discovering the bones nearly two years ago, the bones were brought to the University of Iowa for identification only last month, sparking the interest of Holmes Semken, professor emeritus of Geoscience.