The Celts were long considered a barbaric and violent society. But new findings from a 2,600-year-old grave in Germany suggest the ancient people were much more sophisticated than previously thought. The little Bettelbühl stream on the Danube River was completely unknown, except to local residents. But that changed in the summer of 2010 when a spectacular discovery was made just next to the creek.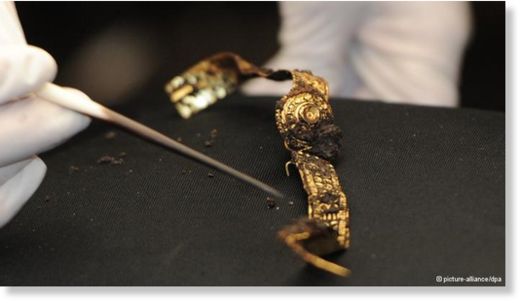 Not far from the Heuneburg, the site of an early Celtic settlement, researchers stumbled upon the elaborate grave of a Celtic princess. In addition to gold and amber, they found a subterranean burial chamber fitted with massive oak beams. It was an archeological sensation that, after 2,600 years, the chamber was completely intact.
The wooden construction was preserved by the constant flow of water from the Bettelbühl stream. "In dry ground, the wood wouldn't have had a chance to survive over so many centuries," said Nicole Ebinger-Rist, the director of the research project handling the find.