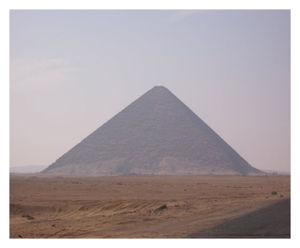 Pharaoh Snefru, the "King of the Pyramids," developed his building skills over a 2.3 square mile playground in the desert, according to a new study into the geology of the Dahshur royal necropolis in Egypt.
The first king of the 4th dynasty, Snefru (reigned 2575-2551 BC) built Egypt's first true pyramid at Dashur, after a couple of failures. The task was overshadowed by his son Khufu, or Cheops, when he built the Great Pyramid at Giza.
More than 3.5 million cubic meters (123 million cubic feet) of building material were mined and transported at Dashur, some 20 miles from Cairo, yet very little evidence remains of what went on at the pyramid practice site some 4500 years ago. Nature wiped virtually any trace of human activity.
To expose the ancient pyramid playground, a team of Earth scientists from Germany turned to fractals.
Fractals are natural or artificially created geometric patterns that form designs. These appear to repeat themselves over and over when magnified.
Deltas created where rivers meet the ocean often display fractal properties. Dissected by river channels which drain into the floodplain of the Nile, the area around Dahshur was indeed supposed to show an abundance of natural fractals. The new study showed that was't really the case.